FH Graubünden nimmt sich mit dem Projekt RenoRent einem Problem im Alpenraum an
28. May 2020
Im schweizerischen Alpenraum befinden sich etwa 350'000 Zweitwohnungen, von denen mehr als die Hälfte vor 1980 gebaut wurden. Bei vielen steht die erste grössere Erneuerung an, wie etwa der Austausch von Bädern, Küchen, Böden oder der Inneneinrichtung. Eigentümer oder deren Erben nutzen die Wohnungen immer weniger und wollen nicht in sie investieren. Diesem Problem hat sich das Institut für Tourismus und Freizeit (ITF) der FH Graubünden im Projekt RenoRent angenommen und ein Geschäftsmodell zur Renovierung und touristische Aktivierung von Zweitwohnungen entwickelt, welches schliesslich zu einem Start-up geführt hat.
Die Basis für das Modell bildet eine zeitlich begrenzte Nutzniessung der Wohnungen durch eine Gesellschaft. Diese investiert an ausgewählten Standorten in die kollektive und damit kostengünstigere Renovierung der Wohnungen nach einem einheitlichen, marktfähigen Ausbaustandard. Die Besonderheit des Modells besteht darin, dass Zweitwohnungsbesitzer sich im Regelfall nicht an den Renovationskosten beteiligen müssen und eine feste Vergütung für die Bereitstellung ihrer Wohnungen sowie festgelegte Eigennutzungsmöglichkeiten erhalten. Nach der Regel-Nutzniessungszeit von zwölf Jahren kann der Eigentümer, dann wieder frei über seine renovierte Wohnung verfügen.
Win-Win-Situation
Untersucht hat das ITF das Modell RenoRent exemplarisch für die Destination Davos Klosters. Neben Marktabklärungen wurden die Renovationsaufwände und Betriebskosten anhand von Musterobjekten erhoben und das Erlöspotential von erfolgreich am Markt vermieteten Ferienwohnungen ermittelt. Ausserdem wurden durch eine im Projekt involvierte Anwaltskanzlei rechtliche Abklärungen unter anderem zur Sicherung der Investitionen in fremdes Eigentum vorgenommen.
Das Institut für Tourismus und Freizeit konnte aufzeigen, dass mit dem Modell RenoRent eine Win-Win-Situation für Wohnungseigentümer und eine entsprechende Immobiliengesellschaft entstehen kann. Voraussetzung ist, dass die Gesellschaft nur in touristisch attraktive Destinationen investiert, die Objekte sorgfältig auswählt, bei den Eigentümern zu überzeugen weiss und über ein starkes Partner-Netzwerk - etwa für die Vermarktung - verfügt. Zum wirtschaftlichen Erfolg einer eigenen Immobiliengesellschaft ist gemäss den Autoren der Machbarkeitsstudie RenoRent der Aufbau eines Wohnungsportfolios von etwa 120 Wohnungen nötig. Mit der Renovation der Ferienwohnungen wird deren Lebenszyklus verlängert und eine Gesellschaft investiert in das Ertragspotential aus der touristischen Vermietung. Neben der finanziellen Entlastung bei den Renovationskosten profitieren die Eigentümer von einer bequemen Abwicklung der Renovation aus einer Hand. Und auch die Destination profitiert in Form von Aufträgen für das Handwerk und durch attraktivere Wohnungen im Unterkunftsangebot.
Umsetzung durch drei Jungunternehmer
Auf Grundlage der Forschungs- und Entwicklungsarbeiten der Fachhochschule Graubünden wurde Ende Februar 2020 von den drei Jungunternehmern Nando Fopp, Martin Bernhard und Marc Kunz die RenoRent AG in Davos gegründet. Sie bringen sich in der Geschäftsleitung mit ihrer Bau- und Immobilienexpertise ein und haben eine eigene Ausstattungslinie für die renovierten Objekte zusammengestellt. Eine erste Ferienwohnung wird derzeit renoviert und dient dem jungen Unternehmen als Musterobjekt, um weitere Zweitwohnungseigentümer zu überzeugen.
Weitere Auskünfte:
Nando Fopp, RenoRent AG, dipl. Architekt BSc FHO
+ 41 79 443 43 45
+ 41 81 413 30 00
info@clutterrenorent.swiss
www.renorent.swiss
Norbert Hörburger, stellvertretender Leiter Forschung und Dienstleistung am Institut für Tourismus und Freizeit (ITF)
+41 81 286 37 48
norbert.hoerburger@clutterfhgr.ch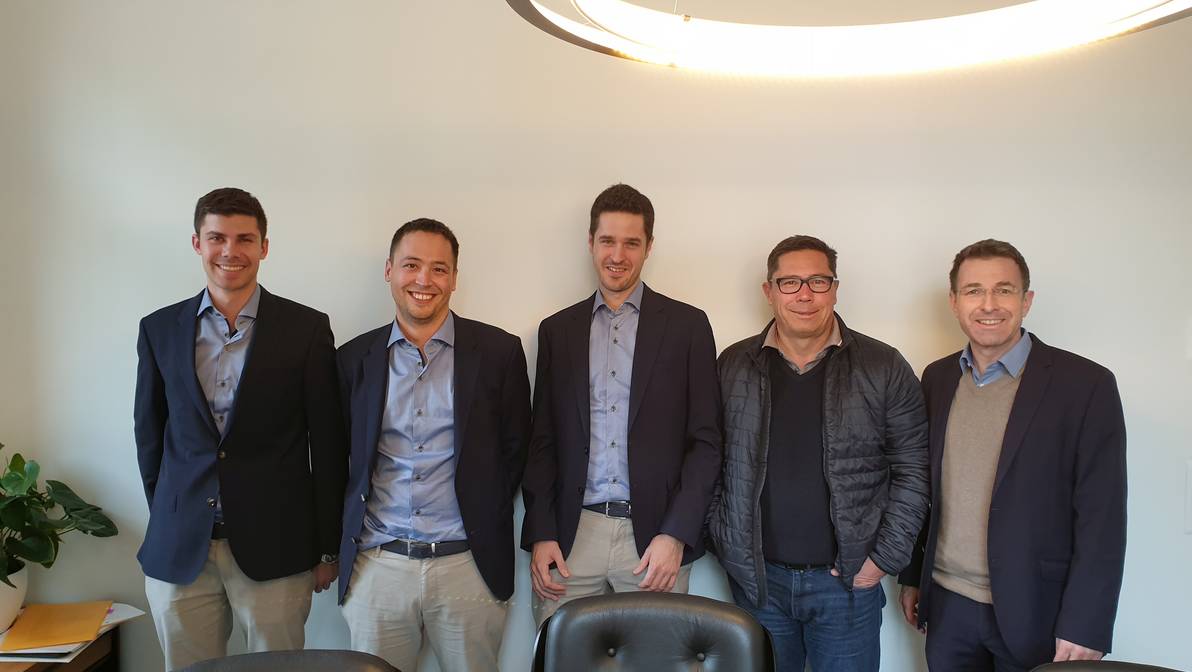 Medias
news-fhgr-renorent-gruendungsakt.jpg

Die Forschungsarbeiten der drei Jungunternehmer führten zur Gründung der RenoRent AG in Davos (v.l.n.r. Jungunternehmer Nando Fopp, Marc Kunz und Martin Bernhard sowie Gründungsmitglieder Roger Kunz und Norbert Hörburger, FHGR)

news-fhgr-renorent-kueche.jpg

Eine erste Ferienwohnung wird derzeit renoviert und dient dem jungen Unternehmen als Musterobjekt, um weitere Zweitwohnungseigentümer zu überzeugen.

news-fhgr-renorent-ferienhaeuser.jpg

Untersucht hat das ITF das Modell RenoRent exemplarisch für die Destination Davos Klosters.
Discover our Subjects of Study
Fachhochschule Graubünden
Als agile Hochschule setzt die FH Graubünden auf dynamisches Denken und proaktives Handeln. Mit diesem Mindset gestaltet sie nachhaltig die Zukunft mit. Studium und Forschung sind interdisziplinär und orientieren sich an praktischen Herausforderungen in Wirtschaft und Gesellschaft. Ihre rund 2400 Studierenden bildet sie zu hochqualifizierten und verantwortungsvollen Persönlichkeiten aus. Die Hochschule bietet Studien- und Weiterbildungsangebote in Architektur, Bauingenieurwesen, Computational and Data Science, Digital Supply Chain Management, Information Science, Management, Mobile Robotics, Multimedia Production, Photonics sowie Tourismus an. In ihrer Forschung fokussiert sie auf die Themen Angewandte Zukunftstechnologien, Entwicklung im alpinen Raum und Unternehmerisches Handeln, und agiert auch partizipativ in Reallaboren. Die Mitwirkung aller Hochschulangehörigen trägt zur Weiterentwicklung der Fachhochschule und deren Qualität bei.