26. March 2020
Die Entwicklung neuer Hotels und die Erweiterung bestehender Betriebe sind komplexe Aufgaben, welche Fachleute aus unterschiedlichen Disziplinen erfordern. Diese Erfahrung durften auch Studierende aus Architektur und Tourismus der Fachhochschule Graubünden bei ihrer interdisziplinären Semesterarbeit «Bauen für den Tourismus» machen. Dank der engen Zusammenarbeit in einer fächerübergreifenden Kooperation wurde für die Belvédère Hotels in Scuol auf dem benachbarten Areal des ehemaligen Coop am Stradun ein Hotelkonzept entwickelt.
Das Institut für Bauen im alpinen Raum (IBAR) der Fachhochschule Graubünden beschäftigt sich unter der Leitung von Robert Albertin und Noëlle Bottoni seit zwei Jahren vermehrt mit touristischen Architekturfragen rund um den kulturellen und historischen Kontext in den Alpen. Die interdisziplinäre Zusammenarbeit mit dem Institut für Tourismus und Freizeit (ITF) – teilweise unter Einbezug von Studierenden – ermöglicht dadurch eine Gesamtsicht und bietet den Auftraggebern und Gemeinden eine Vielzahl von Varianten, welche bei der Weiterentwicklung als strategische Grundlage dienen.
Fünf unterschiedliche Hotelkonzepte
Für die Fallstudie von Scuol konnten mit den Dozierenden Norbert Hörburger (ITF) sowie Christoph Sauter (IBAR) zwei ausgewiesene Hotelexperten gewonnen werden, die mit den örtlichen Verhältnissen baulich und betrieblich eingehend vertraut sind. Die Planung der Hotelerweiterung war eine äusserst spannende Aufgabe und eine gute Grundlage, um mit den Studierenden aus den unterschiedlichen Fachbereichen strategische Fragen zu beantworten und Umsetzungsvorschläge zu präsentieren. Mit den gestalterischen und funktionalen Fragen rund um einen bestehenden Hotelkomplex konnten die Studierenden Antworten zu den aktuellen ortsplanerischen Problemstellungen liefern. Entstanden sind fünf ganz unterschiedliche Hotelkonzepte bzw. Bebauungsvorschläge, die Ende Januar 2020 einem interessierten Publikum vorgestellt wurden. Dabei war es für die Studierenden eine ganz besondere Anerkennung, unter anderem den Gemeindepräsidenten von Scuol, Christian Fanzun, und den Inhaber der Belvédère Hotels Scuol, Kurt Baumgartner, begrüssen zu dürfen.
Vielversprechende Zusammenarbeit
«Mit den Entwicklungsarbeiten der Studierenden erhält man mehrere Konzeptentwürfe, die eine wertvolle Grundlage für die eigene weitere Projektierung bieten und helfen, die Perspektive der jungen Generation in ein Hotelprojekt mit einzubeziehen», sagte der Hotelier des Jahres 2018, Kurt Baumgartner, «denn schliesslich sind sie die künftigen Leistungsträger und Gäste von Morgen. Gemeindepräsident Christian Fanzun hielt fest, dass die Kombination von Studierenden aus Tourismus und Architektur für die Projektstudien ein grosser Vorteil und im Hinblick auf die zukünftige Entwicklung touristischer Vorhaben vielversprechend sei. «Für die Gemeinde wäre es allerdings sehr wichtig, wenn solche Projekte tatsächlich umgesetzt würden», sagte er.

Gerade für eine Tourismusregion wie Graubünden ist das Verständnis der jeweiligen Bedingungen und Bestimmungen von zentraler Bedeutung und daher wesentlicher Erfolgstreiber für die notwendige ganzheitliche Kompetenz bei der Entwicklung und Bewirtschaftung von Tourismusimmobilien. Die FH Graubünden kann hier einen wertvollen Beitrag zur kulturellen Vielfalt unter wirtschaftlichen Rahmenbedingungen bieten. Leben vom Tourismus heisst immer auch Bauen für den Tourismus.
Weitere Details: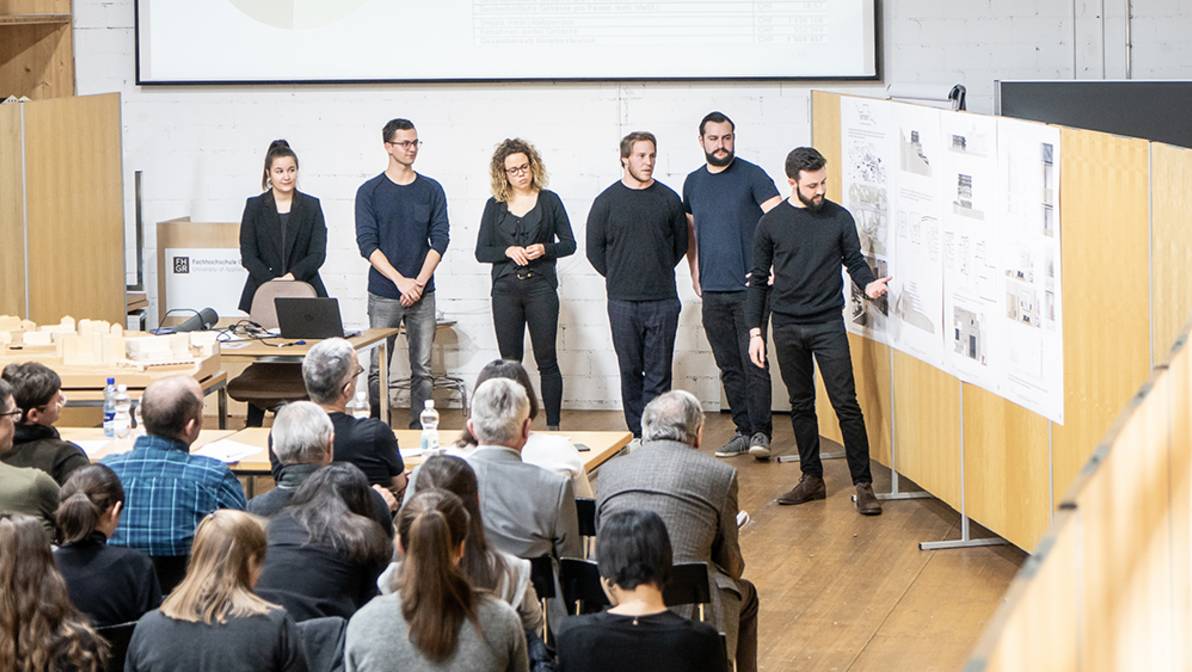 Further Information
Prof. Dipl. Betriebswirt (FH), MBA in Finanzdienstleistungen, MRICS
dipl. Architekt, SIA / FH / SWB / FSU
Medias
news-fhgr-IBAR-ITF.jpg

Studierende präsentieren dem interessierten Publikum ihr Betriebskonzept für die Belvédère Hotel in Scuol.
Discover our Subjects of Study
Fachhochschule Graubünden
Als agile Hochschule setzt die FH Graubünden auf dynamisches Denken und proaktives Handeln. Mit diesem Mindset gestaltet sie nachhaltig die Zukunft mit. Studium und Forschung sind interdisziplinär und orientieren sich an praktischen Herausforderungen in Wirtschaft und Gesellschaft. Ihre über 2400 Studierenden bildet sie zu hochqualifizierten und verantwortungsvollen Persönlichkeiten aus. Die Hochschule bietet Studien- und Weiterbildungsangebote in Architektur, Bauingenieurwesen, Computational and Data Science, Digital Supply Chain Management, Information Science, Management, Mobile Robotics, Multimedia Production, Photonics, Service Innovation and Design sowie Tourismus an. In ihrer Forschung fokussiert sie auf die Themen Angewandte Zukunftstechnologien, Entwicklung im alpinen Raum und Unternehmerisches Handeln, und agiert auch partizipativ in Reallaboren. Die Mitwirkung aller Hochschulangehörigen trägt zur Weiterentwicklung der Fachhochschule und deren Qualität bei.