Erstmals wieder Abschlüsse in Architektur
21. September 2020
414 Studierende der Fachhochschule Graubünden haben Mitte September einen anwendungsorientierten akademischen Titel verliehen bekommen. Erstmals seit 17 Jahren wurden dabei wieder Bachelordiplome an Architektinnen und Architekten vergeben. Insgesamt schlossen 366 Studierende ein Bachelor- und 48 Studierende ein Masterstudium ab. Von den Diplomen gingen 235 an Frauen und 179 an Männer. 96 Diplomierte wohnen in Graubünden.
Wie bereits das letzte Semester ihres Studiums standen auch die Diplomfeiern der Absolventinnen und Absolventen im Zeichen von Corona. Anstatt drei grosse Feiern wurden in diesem Jahr innerhalb von drei Tagen 13 kleinere – aber nicht weniger würdige –Diplomübergaben durchgeführt. Diese fanden in der Aula der Fachhochschule und unter strenger Einhaltung des Schutzkonzeptes statt. «Die Corona-Pandemie hat uns alle gefordert und von Ihnen viel Flexibilität und Engagement abverlangt», sagte denn auch Rektor Jürg Kessler in seiner Ansprache und lobte die Diplomierten für ihren Sondereffort am Schluss des Studiums. Mit dem praxisorientieren akademischen Titel erhielten sie nun den Lohn für die Anstrengungen der vergangenen Semester.
Da wegen der Schutzmassnahmen keine Ehrengäste und andere Festredner eingeladen waren, wandte sich der Vorsteher des Erziehungs-, Kultur- und Umweltschutzdepartements, Regierungsrat Jon Domenic Parolini, in einer Videobotschaft an die Absolventinnen und Absolventen. Auch er nahm darin Bezug auf die Corona-Pandemie und deren Auswirkungen. «Während Sie mit ihrem Studienabschluss über einen Generalschlüssel für Ihre weitere berufliche Laufbahn verfügen, haben Sie mit dem Lockdown Lebenserfahrung gesammelt, die Ihnen kein Studium in dieser Form vermitteln kann», sagte er. Als erfolgreiche Absolventinnen und Absolventen der Fachhochschule Graubünden träfen sie nun auf ein Umfeld, das anspruchsvolle Aufgaben für sie bereithalte. «Es sind Ideen zur Krisenbewältigung gesucht, wozu die Ausbildung an der FH Graubünden gute Grundlagen vermittelt hat.» Der Wettbewerb auf dem Arbeitsmarkt werde noch stärker durch die Digitalisierung von Projekten geprägt sein und entsprechendes Wissen und Können erfordern.
Erstmals wieder Architektinnen und Architekten
Von den insgesamt 366 Bachelordiplomen wurden in diesem Jahr 18 Bachelortitel in Architektur verliehen. Letztmals einen Titel in Architektur vergeben hatte die Vorgängerinstitution der Fachhochschule, die Hochschule für Technik und Wirtschaft HTW Chur, im Jahr 2003. Das Architekturstudium an der FH Graubünden fokussiert bewusst auf den Alpenraum, ohne dabei die Sicht auf das grosse Ganze zu begrenzen. Hier sind die Anforderungen an Bauwerke hoch; klimatische, topografische, geologische und logistische Aspekte sind sowohl bei der Projektierung als auch wirtschaftlich fordernd. Wer das gelernt hat, kann überall bauen, da solche Spezialistinnen und Spezialisten über hohe Baukompetenzen verfügen.
Den stärksten Studiengang bei den Bachelorangeboten bildete Tourismus (in Deutsch und Englisch durchgeführt) mit 92 Diplomierten, gefolgt von Multimedia Production mit 89 Absolventinnen und Absolventen an den Standorten Chur und Bern. 57 Studierenden gelang ein erfolgreicher Abschluss in Betriebsökonomie, 31 in Information Science sowie 5 in Bauingenieurwesen. Erst zum zweiten Mal überhaupt wurden Diplome in den schweizweit einzigartigen Bachelorangeboten Sport Management (33), Digital Business Management (32) und Photonics (9) verliehen.
Auf der Masterstufe durfte die Fachhochschule Graubünden insgesamt 48 Diplome überreichen. 19 Absolventinnen und Absolventen erhielten ein Masterdiplom in Information and Data Management, 15 in New Business, 14 in Tourism and Change (ausschliesslich in Englisch) sowie einer in Engineering. Von den 414 von der Fachhochschule Graubünden verliehenen Diplomen gingen 235 an Frauen und 179 an Männer. 96 Diplomierte sind im Kanton Graubünden wohnhaft.
Bäume für die Diplomierten
Neben dem Diplom erhielten die Studierenden ein Säckchen mit Samen von Bergfichten. Hintergrund dieses symbolischen Geschenks ist das Bestreben der FH Graubünden, sich für die Nachhaltigkeit und den verantwortungsvollen Umgang mit Ressourcen stark zu machen. Seit zwei Jahren wird jeweils für jede Absolventin und jeden Absolventen in Disentis ein Baum gepflanzt. Im immer wieder von Lawinenniedergängen heimgesuchten Dorf soll so ein zusätzlicher Schutzwald entstehen. Zusammen mit den für die diesjährigen Diplomierten gesetzten Bäume wird die FH Graubünden in Disentis bereits fast 1100 Bergfichten gepflanzt haben. «Während Ihres Studiums durften Sie an der einen oder anderen Herausforderung wachsen», umschrieb Rektor Kessler die Symbolik dieses Geschenks. «Mit Ihrem Fleiss haben Sie Wurzeln Ihres Wissens geschlagen.» Die beruflichen und privaten Erfahrungen, welche die Diplomierten künftig machen würden, trieben das Wachstum der für sie gepflanzten Bergfichte weiter in die Höhe.
Die preisgekrönten Besten
Wie jedes Jahr wurde auch an den diesjährigen Diplomfeiern die besten Absolventinnen und Absolventen der FH Graubünden ausgezeichnet. Einen Preis für die besten Abschlüsse und Diplomarbeiten erhielten:
Gianin Krausz (Chur, GR), Bachelor Betriebsökonomie, Note 5.59, Sponsor: Würth
Jasmin Oberholzer (Eschenbach, SG), Bachelor Sport Management, Note 5.31, Sponsor: Swiss Sport Managers
Fabio Kalberer (Haldenstein, GR), Bachelor Architektur, Note 5.32, Sponsor: SIA Graubünden
Sophia Zimmerer (Au, SG), Bachelor Digital Business Management, Note 5.52, Sponsor: 08Eins
Franziska Corradini (Niedergösgen, SO), Bachelor Information Science, Note 5.52, Sponsor: Inficon
Kim Valéry Corpataux (Winkel, ZH), Bachelor Multimedia Production, Note 5.68, Sponsor: Somedia
Sophia Verena Bartolomei (Chur, GR), Bachelor Tourismus, Note 5.62, Sponsor: Schweizerhof
Sebastian Hoffmann (Alsdorf, DE), Master Tourism and Change, Note 5.62, Sponsor: Graubündner Kantonalbank
Maurus Fritsche (Domat/Ems, GR) und Diego Casanova (Chur, GR), Bachelor Photonics, Note je 5.71 und 5.7, Sponsor: Espros (Espros Photonics Award)
Neben den Auszeichnungen für die besten Abschlüsse wurden auch in diesem Jahr Spezialpreise vergeben. Swiss Engineering zeichnete die beste konstruktive Arbeit aus und die Credit Suisse vergab drei Bachelor Awards:
Beste konstruktive Arbeit: Patrick De Abreu (Rheineck, SG) und Dario Gaudenzi (Chur, GR), Bachelor Bauingenieurwesen
CS Bachelor Award Gold: Seline Freiburghaus (Boll, BE), Bachelor Multimedia Production
CS Bachelor Award Silber: Maurus Fritsche (Domat/Ems, GR), Bachelor Photonics
CS Bachelor Award Bronze: Johanna Burgener (Grindelwald, BE), Bachelor Tourismus
Die Diplomfeiern 2020 wurden unterstützt von den Hauptsponsoren Prisma Videoproduktionen und Systeme AG sowie Schönholzer AG.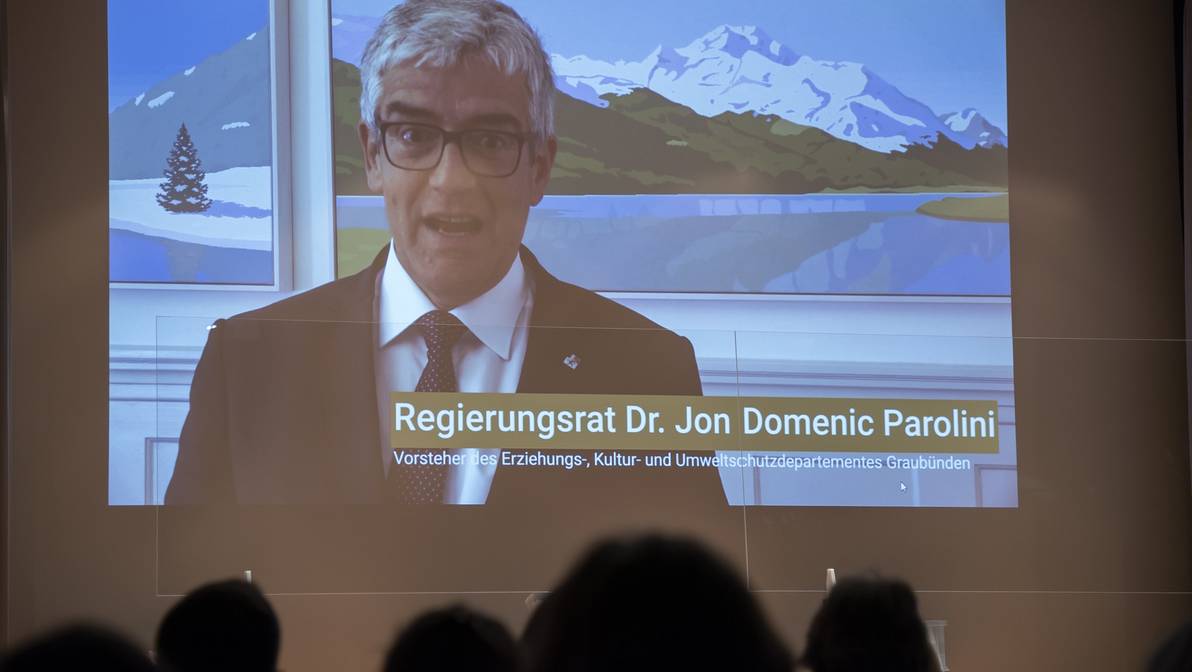 Further Information
Fachhochschule Graubünden
Als agile Hochschule setzt die FH Graubünden auf dynamisches Denken und proaktives Handeln. Mit diesem Mindset gestaltet sie nachhaltig die Zukunft mit. Studium und Forschung sind interdisziplinär und orientieren sich an praktischen Herausforderungen in Wirtschaft und Gesellschaft. Ihre über 2300 Studierenden bildet sie zu hochqualifizierten und verantwortungsvollen Persönlichkeiten aus. Die Hochschule bietet Studien- und Weiterbildungsangebote in Architektur, Bauingenieurwesen, Computational and Data Science, Digital Supply Chain Management, Information Science, Management, Mobile Robotics, Multimedia Production, Photonics sowie Tourismus an. In ihrer Forschung fokussiert sie auf die Themen Angewandte Zukunftstechnologien, Entwicklung im alpinen Raum und Unternehmerisches Handeln, und agiert auch partizipativ in Reallaboren. Die Mitwirkung aller Hochschulangehörigen trägt zur Weiterentwicklung der Fachhochschule und deren Qualität bei.