Vereinbarkeit von Beruf und Milizengagement in Feuerwehr und Zivilschutz vor neuen Herausforderungen
14. December 2021
Der Milizdienst in Feuerwehr und Zivilschutz ist ein wichtiger Bestandteil der Katastrophenhilfe in der Schweiz. Eine neue Studie der Fachhochschule Graubünden hat die Attraktivität des Milizdienstes in den beiden Organisationen und die Rolle der Arbeitgebenden untersucht. Die Ergebnisse zeigen, dass die Miliztätigen in Feuerwehr und Zivilschutz im Kanton Graubünden grundsätzlich zufrieden mit der Unterstützung ihrer Arbeitgebenden sind – einzig deren Wertschätzung ist erstaunlich tief. Herausfordernd bleibt die Rekrutierung von Führungskräften. Die Studie zeigt mögliche Massnahmen auf, um den Kaderdienst attraktiver zu gestalten.
Der Milizdienst in Feuerwehr und Zivilschutz ist ein wichtiges Element des Katastrophen- und Bevölkerungsschutzes in der Schweiz. Einsätze im Rahmen der Corona-Krise, beim Bergsturz in Bondo, den Waldbränden in der Mesolcina sowie auch bei kleineren Ereignissen im Alltag haben der breiten Bevölkerung die Mehrwerte der beiden Organisationen immer wieder vor Augen geführt. Um dieses wertvolle System für die Zukunft zu erhalten, ist die Gesellschaft zum einen darauf angewiesen, dass die Miliztätigen auf eine gute und verständnisvolle Zusammenarbeit mit ihren Arbeitgebenden treffen und zum anderen innerhalb der Milizorganisationen genügend Kaderpersonen gewonnen werden können. Die Fachhochschule Graubünden hat zusammen mit der Gebäudeversicherung Graubünden und dem Amt für Militär und Zivilschutz des Kantons Graubünden eine kantonale Befragung der Feuerwehr- und Zivilschutzangehörigen durchgeführt, um konkrete Massnahmen zu prüfen.
Die Daten in der vorliegenden Studie zeigen, dass die Vereinbarkeit von Beruf und Miliztätigkeit grundsätzlich gegeben ist, wobei die Zivilschutzangehörigen hierbei eine etwas höhere Herausforderung wahrnehmen als die Feuerwehrangehörigen. Die Vereinbarung mit Familie und Freizeit ist sowohl für die Feuerwehr-, als auch die Zivilschutzangehörigen weitestgehend erfüllt.
Zufriedenheit hoch, Rückhalt in der Arbeitswelt bröckelt
Zwei Drittel der Befragten der Feuerwehr erhalten Unterstützung von ihrem Arbeitgeber, rund ein Drittel bei den Zivilschützer/innen. Die Unterstützungsformen sind bei beiden Befragungsgruppen ähnlich ausgeprägt: Die grösste Unterstützung erfolgt mittels Teilzeitarbeit und flexiblen Arbeitszeiten und die administrativen Hürden werden tief gehalten, indem kaum schriftliche Vereinbarungen getroffen werden müssen. Die Arbeitgebenden zeigen sich oftmals kulant. Die Zufriedenheit mit ihrem Arbeitgeber bezüglich der Förderung ihres Milizengagements ist sowohl bei den Feuerwehr- als auch den Zivilschutzangehörigen gut bis sehr gut. Die Befragten Feuerwehrleute messen ihrem Engagement auch positiven Einfluss auf ihre Bewerbungschancen bei einem Jobwechsel ein. Die Zivilschützer sehen dies hingegen neutraler – weder positiv, aber auch nicht negativ. Allerdings ist die Ermutigung durch den Arbeitgeber erstaunlich tief ausgeprägt: Nur knapp 20 Prozent der Feuerwehrangehörigen und 10 Prozent der Zivilschutzangehörigen wurden von ihren Arbeitgebenden proaktiv zu ihrem jetzigen oder weiterführenden Engagement ermuntert.
Mehr Kaderleute braucht der Milizdienst, und mehr Frauen ...
Die kommunal organisierten Feuerwehren im Kanton Graubünden sind mit einem aktuellen Bestand von ca. 4'000 Angehörigen personell gut aufgestellt. Nichtsdestotrotz ist die Kadergewinnung – insbesondere in Randregionen – eine Herausforderung. Dem Zivilschutz – aktuell bestückt mit ca. 2'300 Angehörigen – drohen aufgrund Anpassungen beim Bundesgesetz über den Bevölkerungsschutz und den Zivilschutz in Zukunft empfindliche Fehlbestände. Deshalb ist Kadergewinnung auch beim Zivilschutz von besonderer Bedeutung. Gleichzeitig unterscheiden sich die Voraussetzungen für die Rekrutierung von Freiwilligen im Feuerwehr- und Zivildienst stark: Die Bereitschaft, zusätzlichen freiwilligen Dienst zu leisten, ist bei der Feuerwehr vergleichsweise hoch, während dies bei den Zivilschutzdienstleistenden nur für eine kleine Minderheit denkbar ist. Die Analyse zeigt auch, dass sowohl im Feuerwehr- als auch im Zivilschutzkader überproportional viele Leute auch in der beruflichen Tätigkeit eine Führungsfunktion ausüben. Dies könnte damit zusammenhängen, dass Leute, die sich engagieren, in vielen Lebensbereichen ein überdurchschnittliches Engagement an den Tag legen – eine Chance sowohl für die Wirtschaft, als auch für die Milizorganisationen.
Um das Engagement attraktiver und damit die Bereitschaft zum Kaderdienst zu steigern, wurden von den Befragten einige Massnahmen besonders befürwortet: Der Ausbau von finanziellen Anreizen betrachten Angehörige der Feuerwehr und des Zivilschutzes als eines der wirkungsvollsten Mittel zur Förderung der Attraktivität des Engagements. Hier besteht gerade im Zivilschutz offenbar Nachholbedarf. Weiterbildungsgutscheine und v.a. die Anrechnung des geleisteten Dienstes an Weiterbildungen (z.B. in Form von ECTS-Punkten bei Programmen der Universitäten und Fachhochschulen) stossen bei den Befragten durchaus auf Sympathien. Weiter stehen die Angehörigen des Zivilschutzes dem stärkeren Einbezug von Frauen und in abgeschwächter Form von niedergelassenen Ausländerinnen und Ausländern positiv gegenüber. Um den Feuerwehr- und Zivilschutz für die Zukunft zu sichern, ist konkret zu prüfen, wie Frauen besser angeworben und der Dienst für niedergelassene Ausländerinnen und Ausländer geöffnet resp. bekannter gemacht werden kann.
Weitere Details:
Weitere Auskünfte:
Dario Wellinger
Wiss. Mitarbeiter
Fachhochschule Graubünden
+41 (0)81 286 39 36
dario.wellinger@fhgr.ch
Martin Bühler
Amtsleiter
Amt für Militär und Zivilschutz
+41(0)81 257 35 22
martin.buehler@amz.gr.ch
Markus Feltscher
Direktor GVG
Gebäudeversicherung Graubünden
+41 (0)81 258 90 01
markus.feltscher@gvg.gr.ch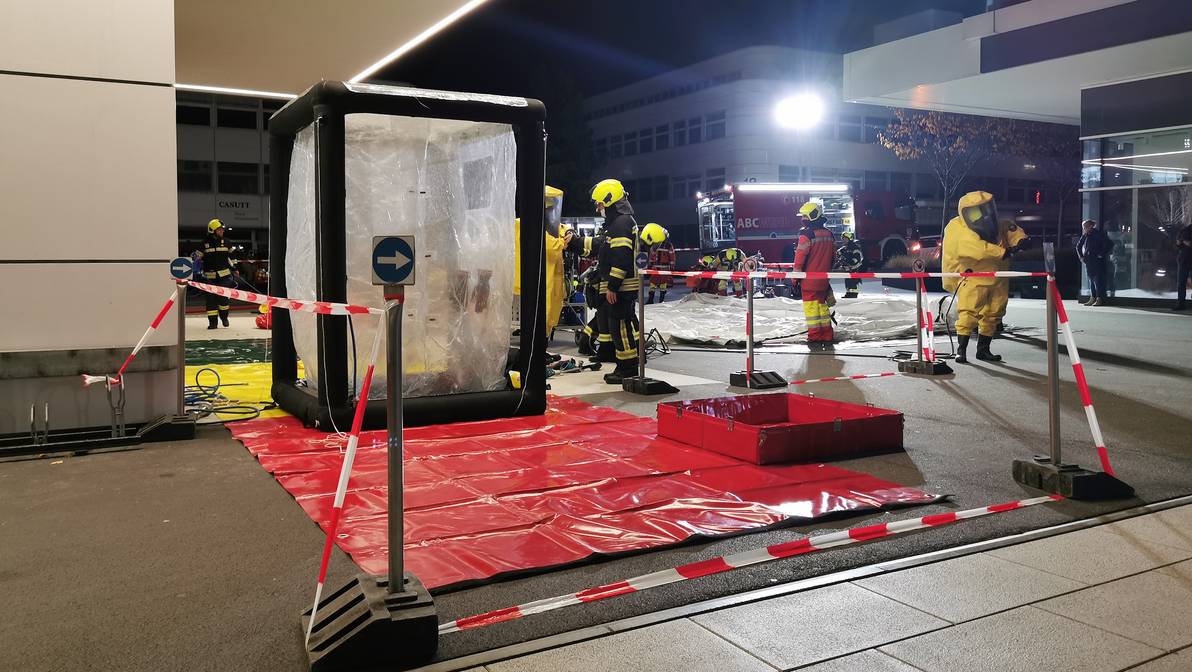 Medias
fhgr-news-Abendeinsatz.jpg

Zwei Drittel der Befragten der Feuerwehr erhalten Unterstützung von ihrem Arbeitgeber, rund ein Drittel bei den Zivilschützer/innen.
Discover our Subjects of Study
Fachhochschule Graubünden
Als agile Hochschule setzt die FH Graubünden auf dynamisches Denken und proaktives Handeln. Mit diesem Mindset gestaltet sie nachhaltig die Zukunft mit. Studium und Forschung sind interdisziplinär und orientieren sich an praktischen Herausforderungen in Wirtschaft und Gesellschaft. Ihre über 2300 Studierenden bildet sie zu hochqualifizierten und verantwortungsvollen Persönlichkeiten aus. Die Hochschule bietet Studien- und Weiterbildungsangebote in Architektur, Bauingenieurwesen, Computational and Data Science, Digital Supply Chain Management, Information Science, Management, Mobile Robotics, Multimedia Production, Photonics sowie Tourismus an. In ihrer Forschung fokussiert sie auf die Themen Angewandte Zukunftstechnologien, Entwicklung im alpinen Raum und Unternehmerisches Handeln, und agiert auch partizipativ in Reallaboren. Die Mitwirkung aller Hochschulangehörigen trägt zur Weiterentwicklung der Fachhochschule und deren Qualität bei.