Mehr Missstände durch Homeoffice und Mitarbeiterabbau in der Corona-Pandemie
11. October 2021
Ob Meldungen über die Pandora Papers oder die Facebook-Whistleblowerin Frances Haugen, Missstände in Unternehmen bestimmen auch derzeit die Schlagzeilen und unterstreichen einmal mehr die Bedeutung von Hinweisgebenden für deren Aufdeckung. Im Corona-Jahr 2020 gingen bei den Meldestellen, die europäische Unternehmen zur Prävention und Aufdeckung von Missständen eingerichtet haben, zwar weniger Hinweise ein, wie der Whistleblowing Report 2021 zeigt, welchen die Fachhochschule Graubünden in Zusammenarbeit mit der EQS Group AG erstellt hat. Homeoffice und Mitarbeiterabbau führten aber zu vergleichsweise mehr Missständen.
2020 gingen bei den Meldestellen durchschnittlich 34 Meldungen ein. Dies bedeutet einen deutlichen Rückgang gegenüber dem letzten Report aus dem Jahr 2019. Damals lag dieser Wert bei 52 Meldungen. Für die Studie wurden über 300 Unternehmen in der Schweiz befragt. Insgesamt lieferten 1'239 Firmen in Deutschland, Frankreich, Grossbritannien und der Schweiz Informationen dazu, wie gut sie auf die Vorgaben der EU-Whistleblower-Richtlinie vorbereitet sind und inwiefern die Corona-Pandemie Auswirkungen auf die Meldebereitschaft im Unternehmen hatte.
Aus dem Rückgang der Meldungen im Jahr 2020 lässt sich, analog zu den Befunden anderer Studien, ableiten, dass die Pandemie zu gewissen Dysfunktionalitäten von Prozessen und Strukturen geführt hat, die auch die Meldestellen betreffen. Unternehmen, bei denen es coronabedingt zu einem Mitarbeiterabbau kam oder in denen ein Grossteil der Mitarbeitenden im Homeoffice (> 66 %) gearbeitet hat, verzeichneten mehr Meldungen als andere Unternehmen. Allerdings war bei diesen auch die Wahrscheinlichkeit höher, von Missständen betroffen zu sein.
«Die Unternehmen sollten alles daransetzen, die Schwachstellen ihrer internen Meldestellen zu beheben, die sich in der Corona-Pandemie gezeigt haben. Denn nur ein effizientes Meldesystem stärkt die Compliance-Kultur und ermöglicht es, Risiken frühzeitig zu erkennen und so Sanktionen, Strafzahlungen und Reputationsschäden abzuwenden», erklärt Professor Dr. Christian Hauser von der Fachhochschule Graubünden, der als Projektleiter verantwortlich für die Erstellung des Reports war.
Fast jedes dritte Unternehmen in der Schweiz von Missständen betroffen
In der Schweiz verfügen 63,4 Prozent der befragten Unternehmen über eine Meldestelle zur Prävention und Aufdeckung von illegalem und unethischem Verhalten. Das sind weniger als in Grossbritannien (73 %) und genauso viele wie in Deutschland (63,2 %), aber mehr als in Frankreich (54,1 %). Bei den Grossunternehmen mit mehr als 249 Mitarbeitenden liegt die Schweiz (73,1 %) fast gleichauf mit Grossbritannien (74,2 %) und Deutschland (73,9 %). In Frankreich haben hingen nur 64,7 Prozent der Unternehmen dieser Grössenordnung eine Meldestelle, obwohl eine solche – wie auch für deutsche Grossunternehmen – Pflicht ist, wenn die EU-Whistleblower-Richtlinie am 17. Dezember 2021 in Kraft tritt.
Wie wichtig ein funktionierendes Meldesystem ist, zeigt die Tatsache, dass 32,5 Prozent der Unternehmen in der Schweiz im Jahr 2020 von illegalem und unethischem Verhalten betroffen waren. In Deutschland (37,1 %), Grossbritannien (35,8 %) und Frankreich (32,8 %) kam dies zwar in mehr Unternehmen vor. Allerdings fällt hierzulande der finanzielle Gesamtschaden durch die Missstände in der Regel höher aus. Ein Drittel der Schweizer Unternehmen bezifferte diesen mit mehr als 100'000 Euro, in den anderen drei Ländern war der Schaden nur bei knapp 20 bis 27 Prozent der Unternehmen sechsstellig. Erfreulich dabei war jedoch, dass mithilfe der Meldestelle 27,6 Prozent der befragten Schweizer Unternehmen über 80 Prozent des finanziellen Gesamtschadens aufdecken konnten.
Missbräuchliche Hinweise sind die Ausnahme
Der «Whistleblowing Report 2021» widerlegt auch noch einmal den häufig geäusserten Vorbehalt, dass Meldestellen vermehrt missbräuchlich genutzt werden könnten. In der Schweiz hatte nur jede 20. Meldung nicht wahrheitsgemässe oder verleumderische Inhalte. Dieser Wert lag auch bei den Unternehmen nicht höher, die anonyme Hinweise erlauben. Dagegen waren rund 50 Prozent der Meldungen relevant.
«Unternehmen sollten deshalb anonyme Meldungen zulassen, ansonsten laufen sie Gefahr, dass wichtige Hinweise auf Rechtsverstösse sie nicht oder nur verspätet erreichen», erklärt Marcus Sultzer, Mitglied des Vorstands der EQS Group. In der Schweiz können bei 57,1 Prozent der Meldestellen Hinweise ohne Angaben zur Identität eingereicht werden.
Der «Whistleblowing Report 2021» wurde vergangene Woche in München im Rahmen der «European Compliance & Ethics Conference», Europas grösster Compliance-Konferenz, vorgestellt.
Weitere Details:
Weitere Auskünfte:
Christian Hauser, Professor und Projektleiter, Fachhochschule Graubünden
Schweizerisches Institut für Entrepreneurship
+41 81 286 39 24
christian.hauser@fhgr.ch
Ulrike Dittmar, Marketing, EQS Group
+49 89 444430-173
ulrike.dittmar@eqs.com
Fachhochschule Graubünden
Als agile Hochschule setzt die FH Graubünden auf dynamisches Denken und proaktives Handeln. Mit diesem Mindset gestaltet sie die Zukunft mutig und nachhaltig mit. Ihre über 2200 Studierenden bildet sie zu hochqualifizierten und verantwortungsvollen Persönlichkeiten aus. Die FH Graubünden bietet Bachelor-, Master- und Weiterbildungsangebote in Architektur, Bauingenieurwesen, Computational and Data Science, Digital Science, Management, Mobile Robotics, Multimedia Production, Photonics, Service Innovation and Design, Supply Chain Management sowie Tourismus an. Lehre und Forschung der Fachhochschule in Graubünden sind interdisziplinär und orientieren sich an praktischen Herausforderungen in Wirtschaft und Gesellschaft. Die Partizipation aller Hochschulangehörigen trägt zur Weiterentwicklung der Qualität und der ganzen Fachhochschule bei. fhgr.ch
EQS Group
Die EQS Group ist ein internationaler Anbieter von regulatorischen Technologien (RegTech) in den Bereichen Corporate Compliance und Investor Relations. Mehrere tausend Unternehmen weltweit schaffen mit der EQS Group Vertrauen, indem sie komplexe Compliance-Anforderungen erfüllen, Risiken minimieren und transparent mit Stakeholdern kommunizieren. Die Produkte der EQS Group sind in der cloudbasierten Software EQS COCKPIT gebündelt. Damit lassen sich Compliance-Arbeitsschritte in den Bereichen Hinweisgeberschutz und Fallbearbeitung, Richtlinienmanagement, Genehmigungsprozesse, Geschäftspartnermanagement, Insiderlistenverwaltung und Meldepflichten professionell steuern. Börsennotierte Unternehmen nutzen zudem ein globales Newswire, Investor Targeting und Kontaktmanagement, IR Webseiten, digitale Berichte und Webcasts für eine effiziente und sichere Investorenkommunikation. Die EQS Group wurde im Jahr 2000 in München gegründet. Heute ist der Konzern mit über 550 Mitarbeitenden in den wichtigsten Finanzmetropolen der Welt vertreten.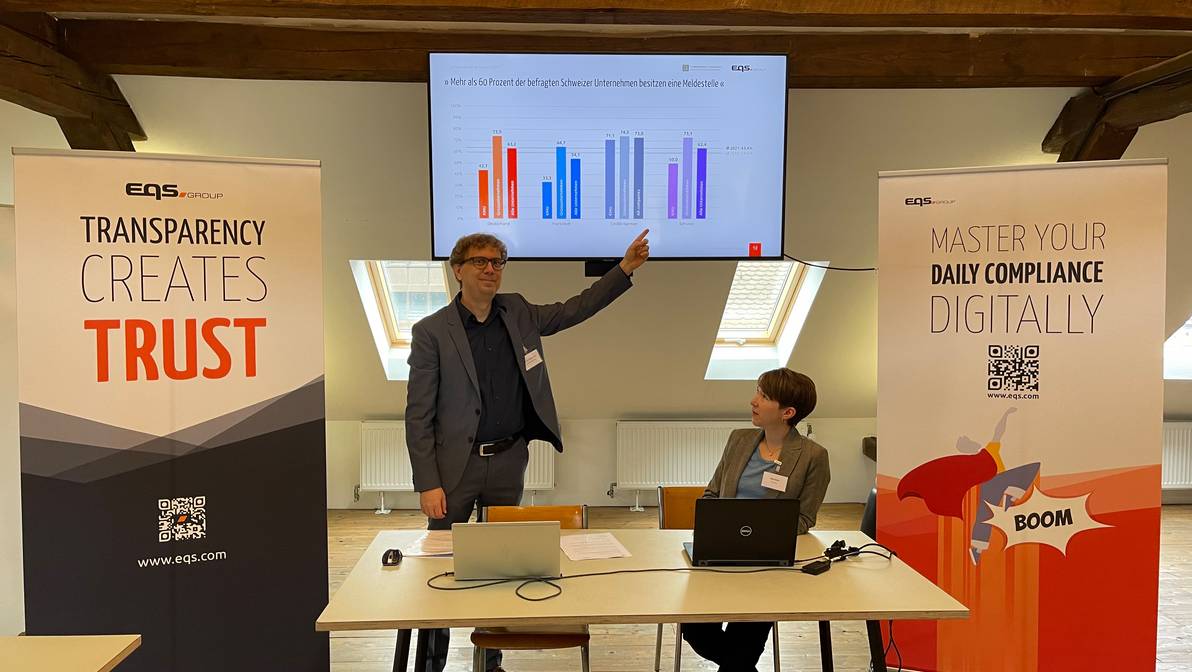 Further Information
Medias
211011_Whistleblowing-Report-2021_Bild.jpg

Christian Hauser, Professor am Schweizerischen Institut für Entrepreneurship, und Helene Blumer der EQS Group, Mitautorin der Studie, haben am Montag in Zürich die Ergebnisse des Whistleblowing Reports 2021 präsentiert.
Discover our Subjects of Study